Key words, meta tags and XML site maps are known technologies to increase the reach of a web site. The following article is a case study with some quantitative numbers on the effects of adding them to a web site. It shows how XML site maps, meta tag and key words impact the number of daily sessions, Google referrals and web ranking.
Actions taken
I took the following actions by the end of December 2010:
 Added a XML site map

update it once a day
submit it automatically once a day to Google, Bing and Yahoo

Added the following meta tags to all pages

Abstract
Description
Keywords
Robots (not actively used)
Title (is maintained automatically through Drupal)

Registered the web site and the XML site map with Google Web Master Tools
Created a web server "http-301" directive which directs scalingbits.com requests to www.scalingbits.com
Which kind of Web Site has been used?
scalingbits.com can be characterized as
hobbyist web site operated by a single person

non commercial, non profit

content: "how-tos" for special interest groups

german speaking Java beginners
people interested in Solaris OS
Web, Drupal technical topics 

Size: ~150 pages
Technology
Traffic volume: low volume

Alexa rank: ~600.000 (3 month average) word wide, ~19.000 in Germany
Netcraft: ~57000
Average sessions per day: ~280

The source of web traffic

~50% from Google queries
Some 60 RSS readers of my blog.
Impact of Actions
All actions have been taken around Dec. 30, 2010. There have been no major changes to the existing content
Google Web Crawler
The first thing which happened was the change in activity of the Google web crawler:

My change rate of pages of my web site is around 2 pages per week. Google crawled around 30 pages a day in December. It's now crawling around 60 pages a day.
Result: Google is crawling two times more pages.
 Google Queries
It must have taken a good week for Google to analyze the pages and index them since the number of queries started growing after Jan 8, 2011

The numbers of impressions grew a lot compared to December (50%) the number of people picking my web site grew by 30%
Result: 30% more queries send from Google.
Sessions
The sessions on my web site have to be considered a very conservative measurement of visitors since most of the bias is getting excluded. These are more or less unique visitors. Things excluded by counting sessions are
impact of crawlers. They count as one session only
Site maintenance of my self. They count as one session only
style sheet files and images aren't getting counted as separate items
 The web server log is showing the following for the sessions per day: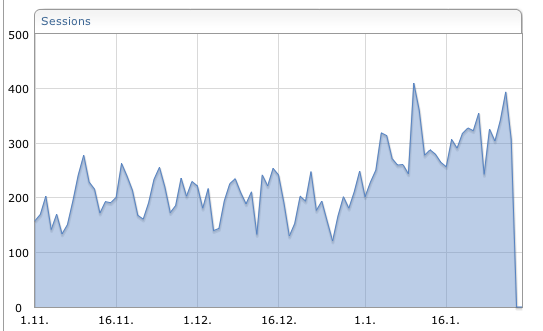 The average number of sessions grew from ~200 sessions per day in November and December to ~300 sessions in January.
Result: 50% increase in people reached.
Alexa and Netcraft ranking
Alexa (a subsidiary of Amazon) and Netcraft track web sites through users which use their toolbars. Their statistics have only very limited implications for the zillions of web sites in the long tail (like mine). These sites receive a very low volume of traffic. Any increase in traffic has strong impact on the ranking.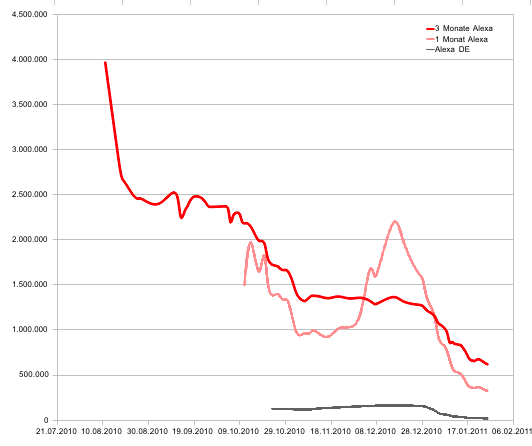 The one month average which has been dropping in December to rank ~1.300.000 (the reason for the project)  improved to rank 320.000 in late January.
The site hasn't been ranked in Germany before December. It improved from rank ~160.000 to ~20.000 in late January.
The ranks have been stable in December 2010. The race to the top seemed to have ended by end of January 2011.  I speculate that the SEO optimizations are now flattening out if it comes to ranking
Results from December to January:
Alexa 3 month average: 1.200.000 to 600.000
Alexa 1 month average:  1.300.000 to 320.000
Alexa Germany: 140.000 to 20.000
Netcraft: 124.000 to 57.000 
Summary
Content is king: Invest most the energy into content
A state of the art collaboration with search engines matters. Expect 25% to 100% more readers (as long as you live in the long tail with your web site. Marc Zuckerberg, you don't need this advice :-) )
Most optimizations are a one time effort (xml site maps, 301 redirection)
Meta tags add a 2 minute permanent extra effort to the creation of an individual page
Use a state of the art technology to manage your web content. It matters! Most things can be automated. Drupal is doing a great job for me in regards of:

W3C compliance of html code
automated XML site map generation and submission
key word management for meta tags for every page page, default settings etc.